Ferns Gathering 2013 June 7th – 9th
This page details the events planned for the Gathering – visit our Post Gathering page for a flavour of what happened over this wonderful weekend. Download printable Calendar of Events.pdf
Diarmuid MacMurrough's Exploits in 2013
We have heard of his exploits in the 12th century, read on and you can catch up with his activities in 2013 read more>>
Diarmuid visits local schools
In preparation for the Ferns Gathering on June 7th to 9th, Diarmuid MacMurrough and his party visit local schools. In the run up the Ferns Gathering, plans are in place to visit all schools in Ferns parish. This is a great opportunity to bring to life the story of Diarmuid MacMurrough and the rich history associated with Ferns. So don't dismiss stories from children telling you a medieval King visited their school. He is pictured with his arch enemies O'Ruairc, King of Breifni and O'Connor of Connacht. Find out where he visited and what he got up to here>>
Diarmuid MacMurrough Sails for Wales
Diarmuid MacMurrough left Ferns for Wales in 1166 to appeal to Henry 11 to assist him in regaining his Kingdom of Leinster, resulting in the Norman invasion and thus changing the course of Irish history. 850 years later, and in preparation for the Ferns Gathering weekend in June, Diarmuid MacMurrough and his party sailed to Wales on April 4th, to once again meet with Strongbow and renew his invitation – this time to the Ferns Gathering in June. Read about Diarmuid's exploits in Wales in 2013 here>>
What is the Ferns Gathering About? 
The idea for the Ferns Gathering came out of the Government's national Gathering tourism initiative which encourages individuals and communities to create events with a 'Gathering' slant throughout 2013. The community of Ferns is working to create a Gathering weekend on June 7th, 8th and 9th, celebrating what makes Ferns unique -its people and its heritage. To reflect the significance of our medieval heritage our Gathering will have a medieval theme. We plan to make it a fun weekend – the village of Ferns will be alive with music, pageantry and craic. So take note – make sure you're in Ferns for June 7th, 8th & 9th 2013. Help us to make it a weekend to remember. For those of you with no connection to Ferns, we invite you to make a connection with a very special part of Ireland. Ferns, the ancient capital of Leinster and Gateway to Norman Wexford has a lot to offer, great heritage, great people and great fun. Scroll down this page for information on events – but do keep checking because we have some interesting plans in the pipeline.
Re-enactors will be a feature of our Gathering, giving a medieval atmosphere. We are also inviting local people to get involved by dressing in medieval costumes. If you are interested in getting involved, get in touch on [email protected]
Keep in touch with what's going on and give us your ideas – you can email us on [email protected]. Over the coming months we will keep you up to date with our plans – visit our Ferns Gathering Facebook page and follow us on Twitter @FernsGathering.
Spreading the Word
Our local community is encouraged to spread the word of the Ferns Gathering – by contacting friends, relatives and neighbours who are living abroad – inviting them back. We want to make this a special weekend – to make it a great experience for everyone – for our community and our visitors. Well done to Scoil Naoimh Maodhóg for organising a Ferns Gathering Christmas Card. Pupils in all Ferns parish schools sent out hundreds of cards designed by local artist John Paul Murray. The card was sent to relations and friends in countries including Japan, Israel, USA, Australia, France, Germany, Italy, New Zealand, South Africa, Turkey, England and USA.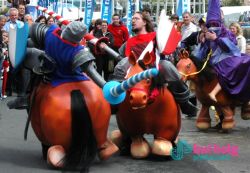 Parade Launch:
The weekend will get off to a great start with this Parade which will feature the renowned Wexford based street theatre group Bui Bolg.
The Parade will start at 7p.m. from St. Mary's Abbey and work its way up Main St., finishing in the grounds of Ferns Castle. Members of the local community, schools, clubs and groups will be out in force, many wearing period costume, so there should be a really festive atmosphere. In preparation for the parade, Bui Bolg have put on workshops to help locals make puppetry characters for the Parade.
Official Launch
The parade will finish at Ferns Castle and the official launch will take place on its arrival. Anne Doyle will officially launch the Gathering weekend, assisted by 'The O'Morchoe', descendent of the Kings of Leinsters and a direct descendent of Diarmuid MacMurrough's brother Morogh McMorogh (Diarmuid handed the Kingship on to his brother Morogh).
Schools Reunion:
The Ferns Schools Reunion will have a focus on the class of 63 but all pupils of schools in the Ferns parish are more than welcome. We are delighted to have Ferns' own Anne Doyle in attendance. Anne is a keen supporter of all things Ferns and makes regular trips to 'the old sod'. This is a great opportunity to catch up with pals you haven't seen in a while. Enjoy a meal and entertainment will be provided by Ferns Comhaltas. Tickets will be available on the night @ €10. If you would like to attend, let us know by emailing [email protected]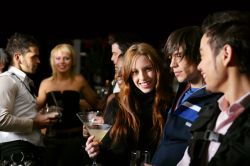 Saturday 8th of June 2013
This is a day packed with something for everyone – from strolling musicians, gaelic games events, children's workshops, medieval costumes and more…….. You can walk in the footsteps of Knights, Kings and Saints, you never know who you'll bump into as you walk in the Ancient Capital of Leinster. We plan to make this a special day. See bottom page for list of fringe activities.
1798 Bus Tour
9a.m. – 2.15p.m.
This bus tour will bring you to nearby locations associated with the 1798 rebellion. Visit the former home of Lieutenant Bookey (leader of the Yeoman Cavalry); the Fr. Murphy Centre (one of the leaders of the 1798 Rebellion) and a site of a Rebel Camp. Lead by historians Brian Cleary and Denis Kinsella, this is a tour worth taking. 1798 Bus Tour Details The cost of the tour is €15 which includes entry to locations and lunch. Meet at the church car park at 9am. If you would like to register your interest in taking this tour, email [email protected]
Genealogy Workshops & Lectures
10 – 12noon and 2 – 4p.m.
Sponsored and conducted by the award winning genealogy company Eneclann, these workshops will enable participants to access Eneclann's vast databases. Two workshops are planned, one in the morning from 10a.m. – 12 noon and the second in the afternoon from 2p.m. – 4p.m. A 20 minutes talk on 'Getting started on Irish family history' will start at 11a.m and another on 'Online Research' will start at 3p.m.
Interested in taking part? If you would like to take part in these workshops, bring a little information about the family you want to research i.e. names, date of birth, marriage, any information you think might help in your search. Thanks to Scoil Naomh Maodhóg who have given the location and computers for the day and if you are not familiar with IT, members of the local community will be on hand to give you individual assistance. There is no charge for these workshops as they are sponsored by Eneclann. To register your interest, email [email protected]
Guided walking tours of Ferns Heritage Trail
Ferns is fortunate to have a number of national monuments, reflecting its rich medieval/christian heritage. If you would like a free guided tour of the various sites, we have a number of local volunteers who would love to show you around. Guided tours are available at: Saturday 10a.m. and 12 and 2p.m. and 4p.m. in the afterrnoon. On Sunday tours at 10a.m. and 2p.m. can be arranged. Just get on touch on [email protected]
Lecture by Dr. Stephen Harrison.
4.30 – 6p.m.
Dr. Stephen Harrison of Trinity College researched and wrote all the battles of the Anglo-Norman invasion for the Irish Battlefields Project.The modern county of Wexford was the scene of some of the earliest and fiercest fighting of the Anglo-Norman Invasion. From Baginbun to Wexford town, these events are unusually well-documented and vividly described, and the ensuing settlement was to have an even more profound impact on the county. Join Stephen Harrison as he examines invasions, incursions, sieges and settlements across south-east Ireland. Entry to this event is free, and on a first come first served basis.
INHP Workshops
Located in the Castle grounds, these workshops will be conducted by Irish National Heritage Park guides. There is no booking necessary for these workshops, timings are as follows:
3pm – 4 pm Shield Making
4pm – 4.30pm Brass Rubbing
4.30pm – 5.30pm Daily Life
5.30pm – 6.30pm Shield Making
6.30pm – 7.30pm Daily Life
7.30pm – 8pm Brass Rubbing
All timings subject to slight change – beyond our control
Workshop details:
Brass Rubbing:
This workshop will be of particular interest to children. It allows individuals to select a brass template inscribed with a historical or nature themed image and using a wax stem, translate the image onto paper.
Norman Shield Making:
Another workshop suitable for children. In keeping with Norman tradition in the 12th century, make and decorate your own Norman shield using history inspired design.
Daily Life:
An interactive exploration of medieval life in Ireland. It focuses on clothing, weapons and culture before the arrival of the Vikings during the Viking period and into the Norman era. It includes a detailed presentation and a display of weapons, armour and clothing from each period.
Display of building materials
used in buildings such as Ferns Castle. This demonstration will be given by Paddy Byrne, Period Conservationist.
Medieval Fair:
3p.m. – 8.30p.m.
The grounds of Ferns Castle will be transformed into amedieval village. Montague Heritage Services will set up their medieval style tents in the afternoon with a extensive range of displays. The public can see at close range many activities of medieval times, children can have take part in combat school and try their hand at archery.
Monier & Silversmith
Monier stamps coins from the Viking & Norman period – examples of finds and discussion around the changes in coinage right through to 16th century. The Silversmith has a full working forge and mobile workshop and can cast on site.
Textiles & Daily Life:
You will see women and children turning fleece into fibre and making clothes.In this area there is also a nursery, a space where children from a wealthy family would learn manners, basic reading and writing and some of the games they might have played.
Food & Medicine:
Food is prepared and displayed on site in the appropriate ware with dedicated personnel discussing the various cooking techniques as well as the methods of preservation and recipes. Medicine, folklore, healing herbs, bloodletting, the Barber and the Physic are all discussed.
Armoury & Maille Making:
In the Armoury there are various types of helmets, shields, swords and other weapons which can be handled and photographed. The Armourer explains the types of weapons used at various times during our history. The Maille Maker sits making 'chain-maille' and intricate and equally awkward skill, knitting iron links together with specialised tools where members of the public get the opportunity to handle and in some cases try out the technique.
Horn/Bone Worker & Wood Worker:
These individuals display their skill at crafting everyday items from horn, bone, antler and wood, giving a little insight into the skills required for everyday living in times past.
Combatants & Children's Combat School:
Costumed Heritage Specialists put the children through their paces. This is an opportunity for children to hone their skill at arms. Using 'wasters' (wooden practise swords) the young squires are put through their paces and taught how to parry and block. Suitable for ages 5 – 12. Groups of 20 at a time with lessons lasting approximately 20 minutes each time.
'Have a Go Archery':
This is a great opportunity for children to practice archery in a safe and fun setting.
Banquet
7p.m. til late
The grand finale to a great day will consist of a banquet in the grounds of Ferns Castle.  Don't forget Diarmuid MacMurrough has renewed his invitation to Strongbow to come to Ferns for the Gathering and Strongbow accepted…….. Of course Strongbow isn't the only celebrity coming to the Banquet, Anne Doyle will also be there. Who knows what news will break over the weekend. This gives great cause for celebration, come along and join the fun.
This is a ticketed event. Tickets are €20 for an evening of great food, music and craic – if you are interested in attending, please contact us on [email protected]
Sunday 9th of June 2013
Gathering Service in St. Edans Cathedral
The Church of Ireland Gathering Service will take place at 10.30a.m. in the 'smallest Cathedral in Europe'.
Patron & Field Day
This is an annual event and a great opportunity for families to get together to commemorate loved ones and catch up with family, neighbours and friends. The Patron will take place at 2p.m. and is followed by the Field Day. This year, in keeping with the Ferns Gathering, it will have a medieval theme and promises to be a great day out for all the family. Fun events such as the Speed Test for children run by the local GAA club will add to the medieval games available on the day.
Ferns Gathering Fringe Events
We have lots more activities planned around this special weekend – see Ferns Gathering Fringe Events 2013 to check them out! Events include: Stitch with Ferns Tapestry Group in Ferns Castle; GAA – Cumán Abu; Speed Test & Street Leagues; strolling musicians; medieval characters on the streets, music in local pubs and more. We will be updating these events as we add to the programme. Times of events are subject to slight change – please check website for updates.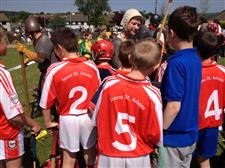 Over the weekend there will be a variety of events to cater for all the family and add to the festive atmosphere.
read more