Leo Rowsome
"Teacher, performer, manufacturer, composer, administrator, was everything for the uilleann pipes"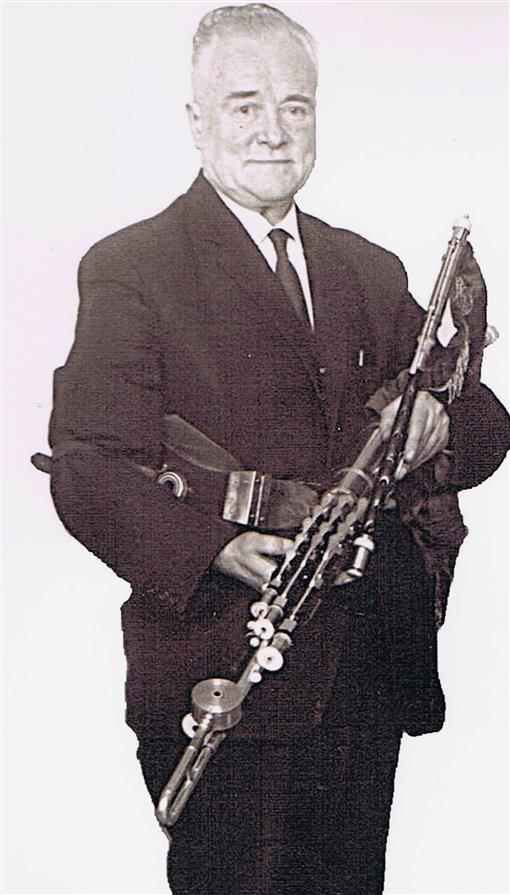 Photo courtesy of Helena Rowsome
We are very grateful to have recceived the following account of the legendary Leo Rowsome from his daughter Helena. In her words:

My teacher at Primary School, Marino, Dublin asked the class, each in turn where they were born.  When it came to my turn, I said with great confidence, that I was born in Ballintore, Ferns Co. Wexford.  The teacher looked puzzled and said – but it says on the Roll that you were born in Dublin  – to which I replied – Oh, but I was going to be born in Ballinore, Ferns.
The essence of that was that I grew up listening to my father talking about his ancestral home, and of his attachment to the memory of his grandparents and their families, and to the people of the Ferns area.
Much has been documented in Irish Minstrels and Musicians on my great grandfather, Samuel, grandfather, William and his brothers Thomas and  John, all of whom were well known musicians. Capt. Francis O'Neill became a friend of William's,  and expressed delight when he read of how William's son, Leo had secured first place in the Feis Ceoil in his youth. He had watched William giving Leo his first lessons on the pipes and realised that the piping tradition was in safe keeping.
Although my grandfather, William died in 1925 long before I was born, I have always felt that I knew him, from the many conversations I had with my father – One trait, above all others was evident from listening to my father chatting about his family i.e.  that of loyalty and respect. William had written much of his Tutor for the Uilleann Pipes before he died; his son, Leo completed the publication and had it published in 1936.  Leo's written dedication in the Tutor to his father,  was typical of the respect that was engrained in the Rowsome family of Ballintore, Ferns – a trait which was, without doubt,  passed on to Leo and his siblings.
It would seem that talent was in abundance in the Ferns area; My great grandmother, Mary Parslow, (Samuel's wife) from Ballyhaddock, Ferns, was a talented violinist and a skilled dancer, and her brother Thomas was an excellent uilleann piper.   It was no surprise therefore that Samuel and Mary Parslow Rowsome had three musical sons, John, Thomas and William – Having talent is one thing, but brains were obviously in abundance, since they seized the opportunity to send their sons to learn the theory of music from a German Professor of Music, Frederick Jacobowitz, who lived in Ferns at the time  (1878 to 1885).  Jacobowitz was Master of the Ferns Brass Band.  As a result, the Rowsome brothers, received a good musical education and became able performers on a variety of orchestral instruments.  That musical education together with William's fatherly guidance enabled Leo to obtain a post in Dublin's Municipal School of Music at the age of seventeen – where he taught for over fifty years, until his sudden death in 1970.  Among his many pupils at the School of Music and the Dublin Pipers' Club were, Paddy Moloney, Sean Seery, Joe & Peter McKenna, Gay McKeon, Willie Clancy and Liam O'Flynn.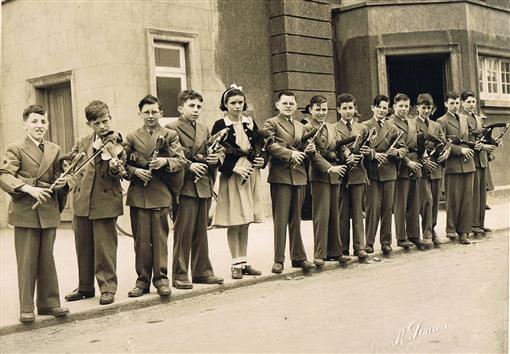 A group of Leo's pupils from the Dublin Pipers' Club at the first annual Fleadh Cheoil, Mullingar 1951
Left to right: Paddy Moloney, Liam Rowsome (Leo's son), Bernard Flanagan, Jim Dowling, Betty Nevin, Christy Downes, Jack Seery, Terry Byrne, Leon Rowsome (Leo's son), Tom Nevin, Christy McEvoy, Robert Fulham, Michael Tuohey
Leo, with his brother Tom, and colleagues from the Dublin Pipers' Club (Cumann na bPíobairí Uilleann) were responsible for the formation of Comhaltas Ceoltoiri Eireann. The photo of the line of Leo's young pupils and Leo's son, Liam (fiddle) was taken at the first ever fleadh Cheoil in Mullingar 1951. 
 Leo was first patron (with Seamus Ennis) of Na Piobairi Uilleann, the organisation for the promotion of the uilleann pipes.  Some time ago, NPU arranged to have technical drawings made of Leo Rowsome pipes, thereby giving aspirant manufacturers an opportunity to copy the measurements of sets made by William, Leo and others.  The CEO of NPU, Gay McKeon was one of Leo's last young pupils.
 Like his father, William and Grandfather Samuel, Leo could repair and maintain a variety of musical instruments.  In passing his skills to his son, William knew that the piping business would be safe in Leo's hands.
Pipes made by Leo are in museums world-wide, and have been used as templates by aspiring pipe makers.
Leo married Helena Williams, a musical school teacher from Taghmon, Co. Wexford and they had four musical children.  Leon (1936-1994) was an excellent uilleann piper, as is his son Kevin, whose sister, Mary is also a very able musician.
Piping has reached the 6th generation in the Rowsome family – To date, five of Leo's great grandchildren play pipes, and it is hoped that this tradition will continue in the family for generations to come.
Leo's second son, Liam (1939-1997) was an excellent violinist/fiddle player, and his daughter, Helena knows her way around a set of pipes, and is devoted to the memory of her father; her daughter Rachel plays violin with the Wexford Opera Orchestra.
Olivia plays piano and has passed on her musicality to her grand children.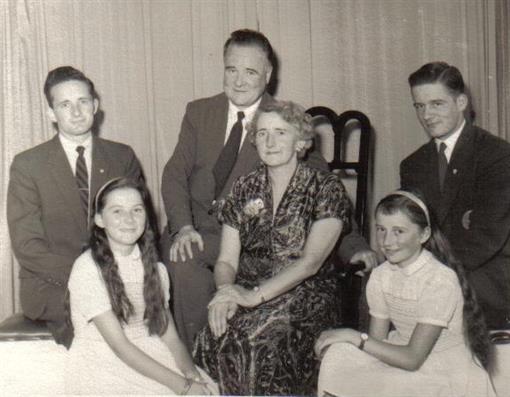 Above: A family photo showing Leo & Helena Rowsome with their family – left to right Leon (1936-1994);Liam (1939-1997); Olivia and Helena (1946 ) Photo courtesy of Helena Rowsome
My Grandmother, Bridget Murphy Rowsome (William's wife) was from from Boolavogue.  I am honoured to be related also, through her to John  Doyle of Monageer, whose parents, Peig and John were close family friends.
Leo's achievements are many and are the subject of a Biography being written by his daughter, Helena who also prepared a book of his music (Waltons published) in 2003 to commemorate the Centenary of her father's birth.
Leo appeared in a number of films, and was in his time, Ireland's ambassador for traditional Irish music.  His Pipes Quartet played regularly on BBC, 2RN (R.E), as did his All Ireland Trio. He was the first Irish artist to play on BBC TV (1933)  and the first solo uilleann piper to play on
2 RN  (1926). He was included in the Times Newspaper list of The one hundred most influential Irish people of the last Millennium, along with James Joyce, Samuel Beckett, Edmund Burke, Eamon de Valera, Michael Collins, Robert Boyle (Scientist), James Connolly and Oscar Wilde.
Leo Rowsome  –  teacher, performer, manufacturer, composer, administrator, was everything for the uilleann pipes!
Recollections of the 1963 Fleadh Ceoil Carman held in Ferns village by John Doyle, Monageer

Programme Images Courtesy of John Furlong, Chairman of the Ferns branch of Comhaltas
"Leo Rowsome's  father William (who was married to my grand aunt Bridget) taught Leo everything;  from reading & writing music,  playing the pipes and  making the instruments. It was William himself with his brothers Tom & John as  youths, attended music lessons in Ferns with the German music teacher Jacobowitz.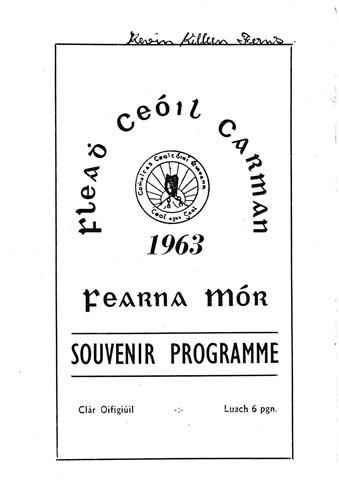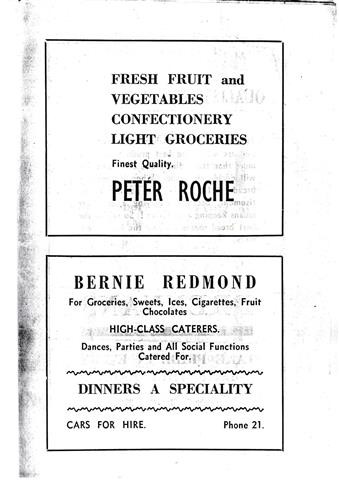 "As far as Leo Rowsome is concerned, Ferns holds special significance for me, as it was my first occasion to  play music with Leo at the Ferns County/Regional Fleadh Cheoil  in 1963 where I won 1stprize in the tin whistle competition on the day."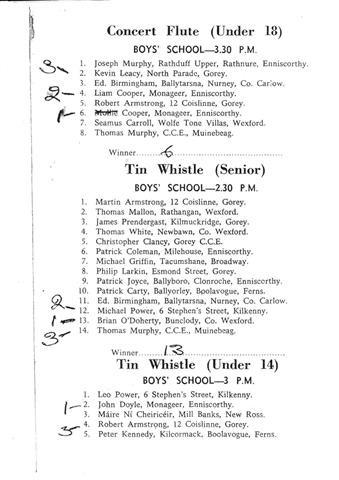 " Leo was Performing Guest Artiste at the Prize Winners' Concert on the night of the Fleadh in the Parochial Hall. After the Concert was over,  refreshments were provided  for entertainers at Bernie Redmonds' Shop across the street, and later a session of music took place there, and went on into the early hours"