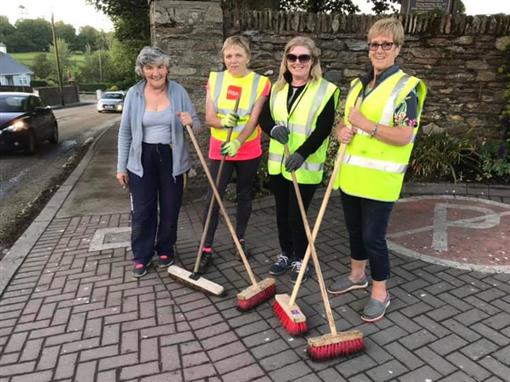 We first entered the Tidy Towns competition in 2006 and we are very proud of the huge improvements to our village. We are a Sub Committee of Ferns Development Association and work towards making Ferns a pleasant place to live, work and visit.
We believe Ferns has a lot to offer and that we can go far by working together, raising awareness of our rich heritage and valuing what makes our community unique – its people.
We encourage residents and businesses to put their best foot forward and to present their premises and indeed footpaths and kerbsides at their best. We would like to thank those who have worked with us during the year on making improvements.
Each year we have a small electrical goods collection. The public are encouraged to bring waste electrical items on a particular day and we arrange to have them brought to Holmestown Waste Management Facility.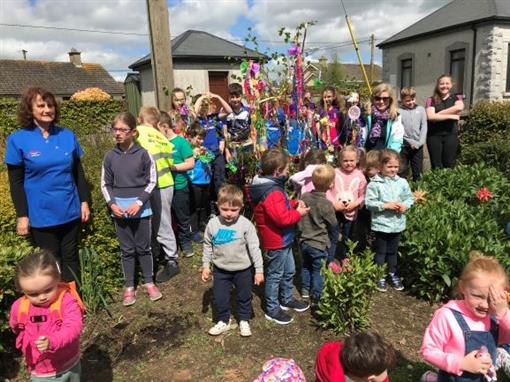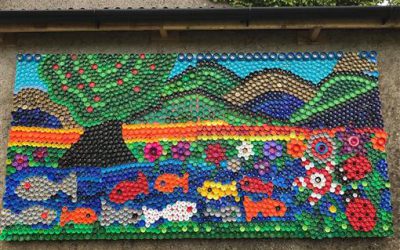 After submitting details of our proposed bottle-cap mural project under the Waste Prevention Grant Scheme run by the Environment Section of Wexford County Council and Southern Waste Region, Ferns Tidy Towns were successful in securing funding under this scheme. The...
read more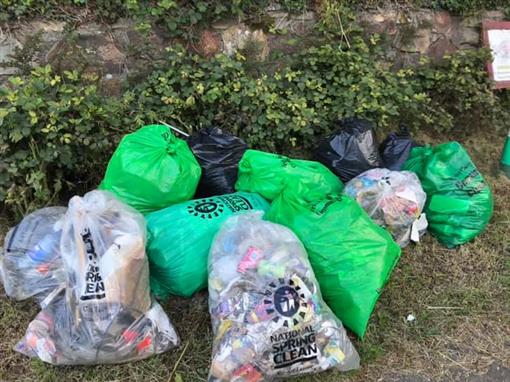 Disposing of Household Waste
There is a wide range of services and facilities to dispose of and recycle domestic waste.  As well as reducing the volume of waste going to landfill, recycling and composting your domestic waste helps to minimise charges for waste collection. Many of the items used in the home can be recycled. The benefits of recycling include a cleaner environment, the safe disposal of hazardous materials, greater awareness of excess packaging and a careful approach to the use and re-use of materials.  It's easy to get confused about what goes where. We're here to help, with everything you ever wanted to know about your waste and recycling. For more information see  https://www.mywaste.ie/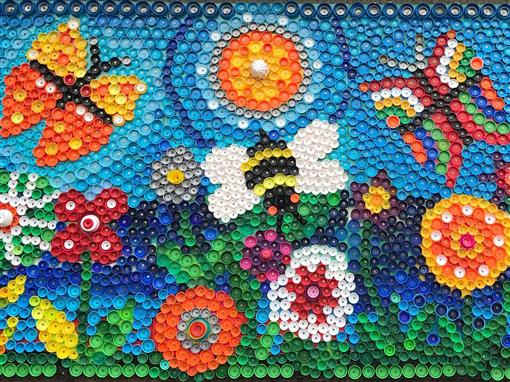 Bottle Top Murals
Plastic bottle tops are one of the top 10 items found during marine debris beach clean-ups worldwide and are the second most littered item after cigarette butts! 90kg of plastic bottle caps were collected locally in just five months. 6,000 were used to create these beautiful murals in our community area to highlight the effects of single use plastic on the environment. Ferns Tidy Towns hope that the community from now on will take a moment to consider the cap on their drinks bottle before binning it. Each one we keep out of landfill, we help keep our environment safe.  Thanks to everyone involved in helping to create the bottle cap murals.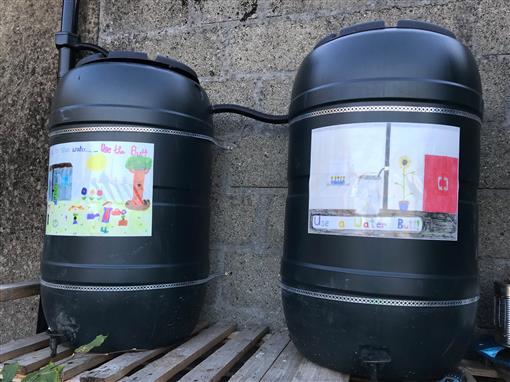 Water Butt Usage
Ferns Tidy Towns is encouraging householders to store rain water for use around the house and garden. Water butts can hold 200 litres of water and can save a huge amount of water for use in a variety of ways.
Recycling Facilities in Ferns
Bring all you glass bottles, jars and beverage cans to our Bring Centre beside the Garda Station. We also organize clothes recycling, paper, ink cartridges, annual hazordous waste collection and an annual electrical goods collection.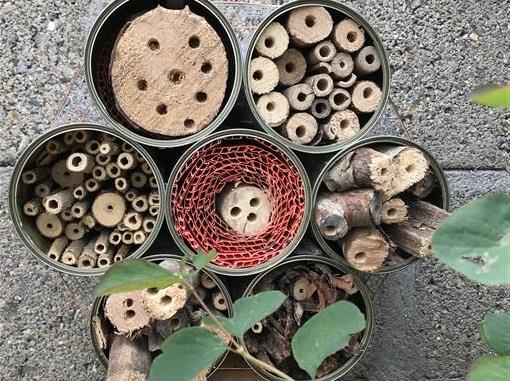 Wildlife and Natural Amenities
Around the village you will spot areas "Managed For Wildlife" as part of the All-Ireland Pollinator Plan as well as bug hotels and planting alongside our natural amenities to protect and preserve our wildlife.
Reduce Reuse Recycle
You can reduce waste by re-using, repairing, composting, recycling and, most importantly, preventing waste in the first place can help to protect both our country and our planet for future generations.
We have made tremendous progress since our first year and are encouraged by our improved standing in the national competition and in particular with the obvious improvements to our village.
 2019
 Tidy Towns Awards – Mary Gethings Highly Commended  National Supervalu Tidy Towns Community Hero Award
Keep Wexford Beautiful Environment Awards – Overall winner of the North Wexford 2K Clean
Keep Wexford Beautiful Environment Awards – Second Prize – Best Community Waste Prevention/Re-use Project
Keep Wexford Beautiful Environment Awards – Mary Gethings Highly Commended Community Hero Award
Keep Wexford Beautiful Environment Awards – Joint Third Prize –  Best Community Biodiversity Project
Keep Wexford Beautiful Environment Awards – Joint 3rd Prize – Best Community Project that reduces and tackles climate change
Gold Standard Award for participation in the North Wexford 2K Clean
Gold Standard Award for recognition of the contribution to the NW2KC for keeping 22km of approach roads litter free
1st prize in the photography and 'The Little Things That Matter' competition
2018
Tidy Towns Awards – Mary Gethings Overall winner National Supervalu Tidy Towns Community Heros Award
Keep Wexford Beautiful Environment Awards – First Prize Best Community Waste Prevention/Re-use Project
Keep Wexford Beautiful Environment Awards – Mary Gethings Overall Winner Community Heros Award
Keep Wexford Beautiful Environment Awards – 2nd prize Best Community Biodiversity Project
Gold Standard Award for participation in the North Wexford 2K Clean
Gold Standard Award for recognition of the contribution to the NW2KC for keeping 22km of approach roads litter free
1st prize in the photography competition
2017
Keep Wexford Beautiful Environment Awards – 1st prize Best Community Project to Improve Accessibility to Infrastructure
Keep Wexford Beautiful Environment Awards – 2nd prize for Best Community Waste Prevention project
Keep Wexford Beautiful Environment Awards – 2nd prize for Best Community Biodiversity project
Keep Wexford Beautiful Environment Awards – 2nd prize in the North Wexford 2K Clean
Gold standard Award for participation in the North Wexford 2K Clean
Gold Standard certificate for recognition of the contribution to the NW2K Clean for picking 22km of approach roads
2nd prize in the North Wexford 2K Clean 'little things that matter' competition for showcasing St.Mogue's Well
2016
Gold Standard Award for participation in the North Wexford 2K clean Certificate in recognition of the contribution to NW2K clean by picking more than five roads
1st prize in the photography competition as part of the North Wexford 2K Clean
Tidy Towns Regional Winner of the Irish Water Value Water Award in Best Small Town category
Keep Wexford Beautiful Environment Awards – Winner of the Value Water Award Village
Keep Wexford Beautiful Environment Awards – 2nd prize for Best Community Project that tackles and reduces the impact of climate change
2015
Silver Standard Award for participation in the North Wexford 2k Clean and a special award for contribution to the North Wexford 2k Clean by picking more than 5 roads
Winner: Keep Wexford Beautiful competition: Best Community Project to improve accessibility in gardens and parks
2014
Keep Wexford Beautiful Awards: 3rd prize in the Best Heritage Preservation and Conservation Project category
2009
Tidy Towns' Endeavour Award
2008
Keep Wexford Beautiful 'Best New Entry Award'
2007
Winner – Landscaping Award
Contact Ferns Tidy Towns Group