What is this project about?

The project will revive and celebrate the ancient links between communities in Wexford and North Pembrokeshire in Wales, from the Stone Age through to Mediaeval pilgrimage, and more recent history such as the first manned flight across the Irish Sea in 1912. Many of the stories reveal strong links between these two Celtic lands, for example the long term friendship between St David, patron saint of Wales, who spent much of his life in St Davids, and his pupil and protégé St Aidan who is closely associated with Ferns.
The project's aim is to motivate both communities to rediscover their shared heritage; to be mentors for one another; sharing knowledge, experience and skills to create a stronger sense of identity and place that will continue to flourish in years to come. The stories that emerge from the project will also be employed to create ways to attract visitors to North Pembrokeshire and Wexford outside of school and summer holidays.
For the next three years, there will be a burst of creative activity in both regions including: commissioning of new artworks, revival of traditional skills, exploring the significance of pilgrimage in the modern world, archaeological digs, storytelling and gathering, live music and schools projects, as well as mentoring and support for businesses and community projects.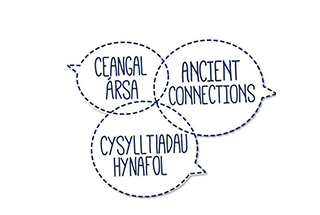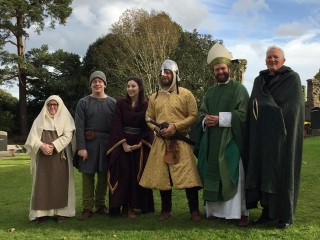 Who was St Aidan?
Born in Cavan around 550AD, Aidan had an eventful upbringing, held as a hostage by the High King of Ireland, Áedh MacAinmuirech, of the Cenél Conaill for a time.  When he was released, Aidan studied to become a monk under St Finnian of Clonard.  Aidan then went to study under St David at Kilmuine (Cil-mynyw) in Wales. During his time here David placed him in charge of a church at Llawhaden (pronounced LLAN-HAUA-DEN) in the heart of Pembrokeshire, where a church remains dedicated to him to this day. Around 580 AD Aidan returned to Ireland, to Ferns, where he founded his monastery.
Who was St Mogue?
St Aidan! Mogue is derived from the Irish Mo Aodh Óg which translates as  "my young Aodh" or "my darling Aodh". "Aidan" is a diminutive form of the Gaelic name Aodh, Aedh, or Aed ( (Source: The Lives of British Saints) …. So Mogue is another name for Aidan! Other variations include Maedhog, Máedóc and Edan.
Who was St David?
St David is the patron saint of Wales under whom Aidan studied during his time in Wales.