School Visits
It is obvious that schools in the Ferns parish have embraced the Ferns Gathering with gusto. A hearty congratulations to them all and in particularl to their hard working and inspiring teachers. We look forward to seeing them at the Launch Parade on June 7th.
Scoil Naomh Maodhog
Pupils could be heard shouting "Hide Diarmuid" as part of a re-enactment of the Diarmuid MacMurrough story– the 12th century King of Leinster who left Ferns nearly 900 years ago to seek help from Henry 11 to help him regain his Kingdom. Have you seen the YouTube video on the homepage – its really worth watching.
On his recent visit to Scoil Naomh Maodhóg, Diarmuid and his enemies are pictured with school principal Colm O'Tiernaigh before they spoke to pupils.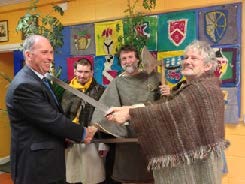 Clologue NS
On their visit to Clologue school, Tiernan O'Ruairc and Diarmuid MacMurrough are pictured with some of the pupils of the school dressed in wonderful medieval costume. The pupils put on a great display of the many medieval props and costumes they made including swords, shields and helmets. Congratulations to all involved.
Tombrack NS
Their visit to Tombrack NS was another great experience for the medieval duo. Here they were shown a project based on the Gathering theme – illustrating the role education plays in equipping children for the future, using the Yeats poem 'The Lake Isle of Inisfree'. Watch the YouTube video explain the project.
In the foreground of the picture are the houses made of wattle and daub made by the children of Junior & Senior infants and 1st and 2nd class. The picture in the background shows the children of the school on the boat of education- this is is not a boat of emirgration but a boat of education which takes them into the future. To the right is afuturistic town or city and this is where all the children in the area are heading for and its to 'the deep hearts core' – that education is not just book learning – its from the heart out and this takes them into the future and each house or building is individualised by each child.
Thanks to Jessica de Burca of Montague Heritage Services for her help and advice on Diarmuid MacMurrough and Tiernan O'Ruairc's costumes.