Celebrations started at 3pm with an exhibition of the school's heritage, ranging from displays of photos, roll books from 1859; family trees of current pupils covering three and in some cases, even four generations. Also featured was a history of the school since its establishment in 1813.
There was a steady stream of people viewing the various displays, meeting and chatting with fellow past and present pupils as they went. The displays were a really wonderful insight into the heritage of a great school.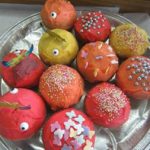 Throughout the day, people were invited to have teas, coffees and some very impressive tray bakes. Congratulations to the many who contributed and organised the various displays.
To round off the celebrations, Dean Paul Mooney and Bishop Michael Burrows participated in a blessing of the school. In a most interesting and enjoyable address Bishop Burrows referred to his days in national school which indicated he was a bit of a scamp in his younger days. The young pupils at the blessing greatly appreciated the account, some of which caused school principal Judy Deacon to raise her eyebrows to heaven.