Brian Hay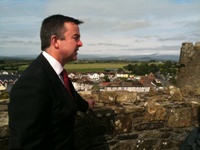 es, the Minister of State responsible for the Office of Public Works visited Ferns Castle to discuss with representatives of the Ferns Development Association the possibility of extending the opening period for the Castle and Visitors Centre. The visit was organised by Paul Kehoe TD, Minister of State at the Department of An Taoiseach.
Minister Hayes is pictured on top of Ferns Castle, with views extending to Mount Leinster, the Blackstairs, Vinegar Hill and beyond.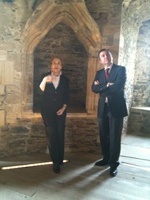 He is pictured here on a tour of Ferns Castle given by Head OPW Guide Jazz Stynes. The tour included a visit to the chapel which is considered an architectural gem. The Minister was most impressed with the Castle and commented on the similarlity of the chapel to Cormac's chapel in Cashel.
Pictured on top of Ferns Castle having complete the tour are (L to R) Sean Mythen, Chairman, FDA; Senator Michael D'Arcy; Minister Brian Hayes; Jazz Stynes, OPW Supervisor Guide, Ferns Castle and Catherine MacPartlin, Secretary, FDA.