What did nature provide for our medieval ancestors to eat? This was the question we asked Lorraine from Gallivanting.ie to explore with us on a foraging expedition in Ferns in April 2023.   
The Medieval Pantry was a foraging expedition with a difference.  The following is just a brief resume in what turned out to be a most enjoyable and enlightening ramble through nature's larder.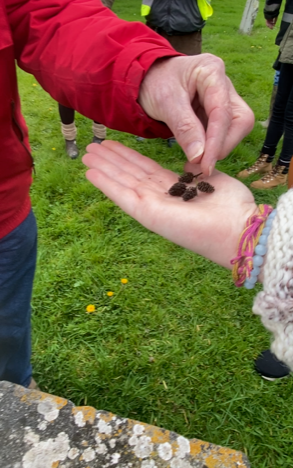 Not only did we get an insight into the culinary benefits of weeds such as bitter crest and plaintain, we also learned the medicinal wonders of dead nettle and elder, the light controlling properties of holly, as well as the power of the Yew tree.
Some plants can be taken for granted – the hawthorn for instance is a larder of delight. Known throughout history as the 'bread and cheese' tree because its almost all edible. The tender young leaves are ideal to eat in spring but can be eaten year round. They are really good for lowering cholesterol Lorraine's tip: look to the shadowy area of the plant to pick because the leaves lying in full sun can be tough. The hawthorn berry which comes later in the year is also edible and you can make a lovely ketchup or vinegar from them. And another tip from Lorraine: When going out for a walk Lorraine will bring a flask of hot water, she'll throw some hawthorn leaves and flower petals in – it makes a lovely tea.
The Irish for Alder is Fearna (Ferns) and so the alder tree we visited was right at home in more ways than one. An unassuming looking tree, however it is known as the tree of the warrior. The alder wood was invaluable because it made very powerful shields and spear shafts – necessary instruments of defence for the many bloody battles fought in medieval times.
And who knew that the nettle is nature's answer to Botox. …… and its good for arthritis too!
After the forage, we went back to the Medieval Ferns Experience where Lorraine showed us how to make wild garlic pesto and garlic butter – yumm!
The event was organised by the Ferns Heritage Project – thanks was extended to those who attended and contributed so enthusiastically, to Lorraine from Gallivanting.ie for her expertise and her fun style of delivery, to Ancient Connections for their funding support, to the Medieval Ferns Experience for hosting the location for the flavoured butter demonstration and to Taste Wexford for kindly donating a jar of wild garlic pesto and a bottle of sparkling nettle drink for everyone in attendance.