Thursday, 17th at 7pm: Talk by Ena Gray 'The Church in the Middle Ages – where were the women?
Sunday: 20th at 2.30pm. Talk & demonstration by beekeeper Joe Kelly.
Free entry and all are welcome.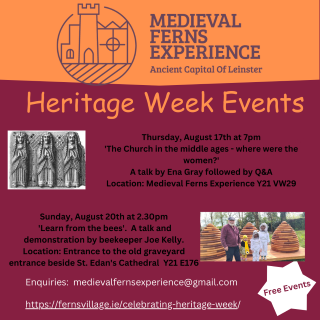 The theme of this year's Heritage Week is to explore the traditions and practices, knowledge and skills passed down through generations. To celebrate Heritage Week 2023 in the Medieval Ferns Experience, 2 events have been organised
The first is a talk by Ena Gray. Ena is the author of 2 books about the Jews in Palesetine. Her talk on Thursday, August 17th is entitled 'The Church in the Middle Ages – where were the women?' We read and hear a lot about male ecclesiastics – their monasteries, how they organise, their daily labours and prayers and their great works. But what do we know of female ecclesiastics? There is little written about women in the church. Ena will pick out outstanding female figures of the church in the middle ages, showing their humanity and their influence. Her talk will be followed by a Q&A session.
Location: Medieval Ferns Experience (Y21 VW29) on Thursday, August 17th at 7pm.
The second talk on Sunday 20th, is by local beekeeper Joe Kelly, entitled 'Learn from the Bees'. The talk, and demonstration with real live bees will take place at the iconic public art work in the cemetary adjacent to St. Edan's Cathedral. The art piece consists of 3 giant bee hives commissioned under the Ancient Connections programme. They are unique in many ways – apart from being beautiful works of art, they will house live bees making delicious Ferns honey. The bees are not currently in the giant hives – this is due to take place in the coming weeks. The project was inspired by the relationship between St Aidan and St David in Wales – one of St Aidan's duties while being mentored by St David was to look after the bees. If you travel to St Davids in Wales, you will see 3 identical bee hives in the grounds of St Davids Cathedral – reflecting the continuing relationship between the communities of Ferns and St Davids.
Location: This talk will take place in the old graveyard adjacent to St Edan's Cathedral. Meet at the entrance gate to the graveyard at 2.30pm.