"ANCIENT CONNECTIONS STORY SHARING EVENING"
from 6.30pm, Tuesday 21st January, The Courtyard, Ferns
Presented by
Abarta Heritage
If you are interested in the folklore, history, heritage and stories of Ferns, this is an ideal opportunity to see what the Ancient Connections project will deliver and to have your say!
The Rediscovering Ancient Connectionsproject seeks to help to revive the ancient links between the people of Pembrokeshire in Wales and North Wexford in Ireland. Both communities have a deeply entwined, shared heritage and history that extends back millennia from prehistory to the modern day.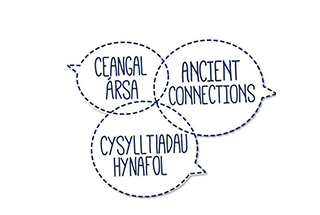 Community involvement is at the heart of the Ancient Connections Project, and Abarta Heritage alongside Angharad Wynne in Wales have been engaged to deliver a programme of research, training and a Tourism Ambassador Scheme. The aim is to involve the community and to ensure the project leaves a legacy of skills in the regions. In addition, a group of Tourism Ambassadors will be trained to share the rich stories and histories of these areas with visitors for many years to come.
Over the last couple of months, the team has been busy gathering history, archaeology, folklore and stories that connect the two regions and want to share these stories with the wider community. The community of Ferns is invited to come along to share their local knowledge and tales over a cup of tea and a biscuit or two. The project team will also share what's been unearthed from archives and libraries so far as well as informing participants of further involvement, volunteering and training opportunities.
If you would like to explore the connections between Wexford and Pembrokeshire and share your own stories, please do come along to the Rediscovering Ancient Connections Story Sharing Evening on the 21st January at the Courtyard Bar and Restaurant, Ferns from 6.30pm. The event will begin properly at 7pm and conclude by 9pm.
This is a free event and all are welcome but booking is essential, so please reserve your place on Eventbrite: https://www.eventbrite.ie/e/story-sharing-evening-ferns-co-wexford-tickets-89392670885
Ancient Connections, is funded by the European Regional Development Fund through their Ireland Wales Cooperation programme and aims to sustainably increase overseas tourism to and between both regions. The project is focusing on boosting tourism in the shoulder seasons, encouraging more people to visit in Spring and Autumn, thereby extending the season and improving the local economy. The project is led by Pembrokeshire County Council, with project partners and joint beneficiaries Wexford County Council, Pembrokeshire Coast National Park Authority and Visit Wexford. It will run until December 2021.
For further information, please contact: Róisín Burke, Abarta Heritage, 085 1476085, [email protected]
We hope to see you there. Please feel free to share the announcement with those you feel may be interested.