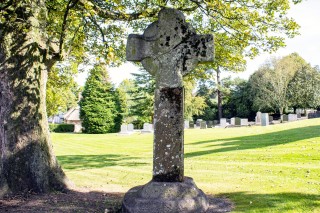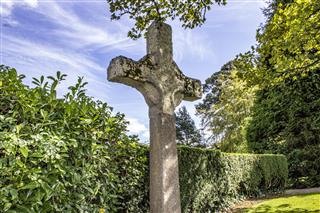 High Crosses
High Crosses are a unique feature of early Irish monasteries. In the grounds around the Cathedral are three plain granite crosses, a smaller stone cross and a cross slab. The heads of four High Crosses, dating to the 8th or 9th century, show the importance of Ferns as an early Christian monastic site, more than anywhere else in South Leinster.
In the grounds of the Cathedral there are three heads, un-decorated apart from raised mouldings at the edge. The original bases have survived but the missing shafts have been replaced by concrete. Another head is found in the ruins behind the Cathedral together with a stone with a raised cross.
For detailed information, see Peter Harbison's book on Irish Crosses.
Furthermore, part of the shaft of a monumental carved High Cross survives above the grave of King Diarmuid MacMurrough.