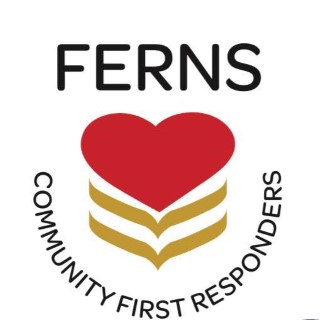 Ferns Community First Responders
Supporting the National Ambulance Service to provide emergency first response in the event of Sudden Cardiac Arrest in the Ferns area.
How does it work?
When operational Ferns Community First Responders will work with the National Ambulance Service and its volunteers will be despatched at the same time as National Ambulance Service Paramedics to Cardiac Arrest Incidents within their area of operation.
Ferns CFR volunteers will be fully trained to assess the state of health of the person on arrival and to administer Cardio Pulmonary Resuscitation, (CPR), or to use an Automated External Defibrillation, (AED), device to administer an electric shock to restart the heart if necessary. The Ferns CFR volunteer will continue to administer first aid and provide support until the arrival of the National Ambulance Service Paramedics.
What Ferns Community First Responders do?
Early intervention is vital in the event of Sudden Cardiac Arrest. The longer the heart is stopped the more damage is caused to the vital organs of the body as blood cannot be supplied to them.
Because the Ferns CFR volunteers live in the Ferns community themselves they will be on hand to provide life saving care before the arrival of the National Ambulance Service Paramedics.
It's not just about the patient, it's also an emergency situation for the patient's family. The Emergency First Responder can offer them reassurance and support between the time the emergency first occurs until the arrival of the ambulance service.