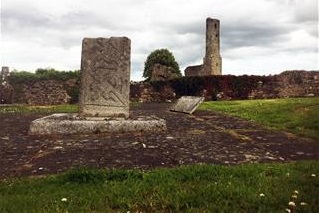 Cathedral Graveyard
Originally a 6th century habitation, the old cemetery located adjacent to St. Edan's Cathedral, contains the remains of some extremely important historical figures, most famous of these being Diarmuid MacMurrough, King of Leinster. Also interred here is the late Fr. Ned Redmond who, as a student in France, was credited with saving the young Napoleon Bonaparte from drowning, thus altering the course of European history. It is reputed that, in the same grave, lie the charred remains of Fr. John Murphy, executed leader of the rebel forces in the rebellion of 1798.
Grave of Diarmuid MacMurrough
In the cemetery, a broken granite shaft of a High Cross with a distinctive fret pattern decoration is reputed to mark the grave of Diarmuid MacMurrough (d.1171), the deposed King of Leinster. Originally a High Cross, during the Cromwellian invasion the Cross was destroyed and only the shaft remains. Diarmuid MacMurrough is most famous for having invited the Normans to Ireland in 1169 A.D.