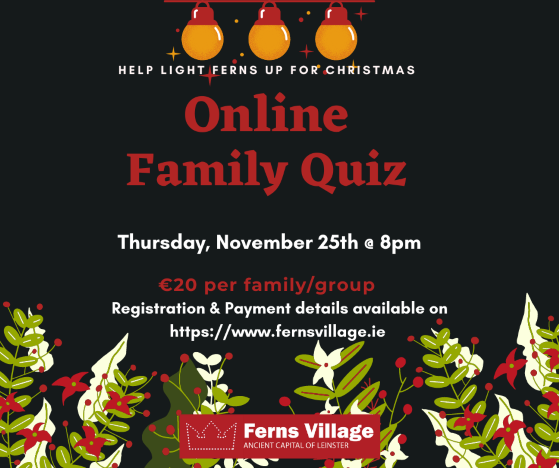 Tonight's the night for our Online Family Quiz. Starting at 8pm, you've still time to register and join us.
Remember you need two devices: one to log in to the quiz and the other to access Answer Sheets. The links will be live at 7.45pm.
Link to Quiz – click here
Link to Answer Sheets – click here
See FAQ below for more information on joining our online quiz.
Thank you for your support in helping us light Ferns up for Christmas.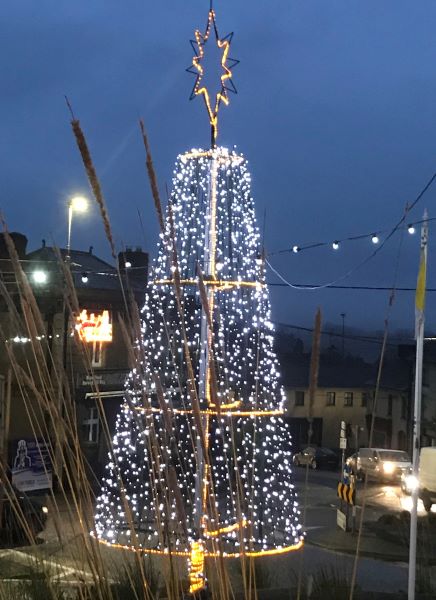 To ensure security of online payments and ease of registration we are using Eventbrite. Eventbrite is a trusted and secure booking and payment system – they charge a small commission fee for each transaction. Registration for the Quiz is open now. Information on steps needed to take part in the quiz will be provided here closer to the date.
Payment Options: Option 1: €20.00 = Quiz Ticket Option 2: €25.00 = Quiz Ticket + €5 Raffle Tickets Option 3: Quiz Ticket + €10 Raffle Tickets.
The quiz is organised by Ferns Community Development Association (CLG). Each year funds raised go towards putting up and maintaining Christmas lights – bringing light and cheer to Ferns' Main St. Depending on funds raised, we try to add a new feature or put up lights in a new area each year. We depend on community support for annual maintenance, replacement and adding new lights – our annual quiz is our fundraiser for lights and will hopefully cover these costs. Last year we were delighted to get a grant from Wexford County Council which enabled us to purchase a metal Christmas tree.
Scroll down for details on how to join the quiz and to see the list of raffle prizes.
Raffle Prizes
We would like to thank those who have donated prizes for the raffle which will take place on the night.
€100 shopping voucher from Centra
Food Hamper donated by Doreen Moran
€50 hair voucher from Buí Hair Salon
€50 hair voucher from The Saints Hair Salon
Bottle of Whiskey
Personal care pack
Mini Baileys Cream & Chocolates Hamper
Mini Baileys Cream & Sweets Hamper
€20 Fuel Voucher from Kenny Fuels
Bottle of 1 red and 1 white wine
Meal Deal Voucher from Frydays
Wash, cut and blow dry from Lady Fair
Hair cut from Chris Barbers
Teddy bear cuddly toy
How to Join the Quiz:
Your team will need two devices. Links will be live after 7.45pm on the evening of the quiz. On one device you can join the quiz and on the other access Answer Sheets.
Frequently Asked Questions (FAQs)
Here are some questions we've been asked and we hope they will help your online experience.
Q. Do we need to go on Zoom?
A. No, just go to the www.fernsvillage.ie website. There is a section on the homepage 'Ferns Family Quiz' and you'll see 2 links: one to the Quiz and questions and the other to the Answer Sheets. These links will be available at 7.45pm on the 25th so that you're all set to go when the quiz starts at 8pm.
Q. Could you explain why we need 2 devices?
A. The devices can be 2 phones, 2 laptops etc or a combination of two of the following: smart phone, pc, laptop, tablet etc. You can use one device to stream the Quiz where you'll get the questions and the other to fill in the Answer Sheet.
Q. How do I get the Questions?
A. When you click on the Quiz link on the website, it brings you to a live streaming platform where you will see and hear the questions.
Q. How do I send in my answers?
A. You first click on the Answer Sheets link and you will be brought to a Google Form. Make sure you add your team name and email address. As the questions are asked, you give the answer and when all the rounds are completed, you click the 'submit' button.
Q. How will the raffle work?
A. Everybody who bought raffle tickets will be allocated a number on a spreadsheet and we will use a formula which picks winners on a random basis.
Q. If I miss a question, what can I do?
A. All rounds and questions are contained in one Answer Sheets document provided, if you miss out on a question, a list of all questions will feature at the end of each round.
Any queries re registration, payment or any other information you would like, please email: secretaryfcda@fernsvillage.ie
Your support, as always, is much appreciated.